IELTS BRITISH COUNCIL AWARD 2021
Do you have a strong motivation to develop your career and can you demonstrate that you have the potential to contribute to the development of technology and society through your research?
The award will allow successful entrants to study at the bachelor's and postgraduate levels in higher education institutions anywhere in the world (in Germany or abroad) in a program taught in English, which accepts IELTS as part of the admission requirements.
To be eligible to apply for the IELTS British Council Award, Germany 2021, you must:
– be 18 years of age or older on July 31, 2021
– passed the IELTS test at the center of the British Council
– plan to enroll in the 2021-22 academic year (ie, starting in August 2021), for a full-time bachelor's or graduate program
– be able to send a confirmation letter from the relevant educational organization by July 31, 2021
❗ Application deadline: June 30, 2021 (14:00 German time)
More information: ↘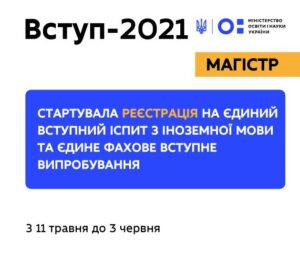 Unified entrance exam on a foreign language
Attention of applicants to the Master`s degree!
May 11, 2021, the registration of applicants who plan to take a unified entrance exam in a foreign language has started.

Registration is carried out by the Admissions Committee of the institution of higher education until June 3, 2021 inclusive. The steps you need to follow for successful registration are available here: https://nure.ua/abituriyentam/vstupna-kampanija/poryadok-podannya-dokumentiv-na-vstup-do-magistraturi