Academic Response to Hybrid Threats   610133-EPP-1-2019-1-FI-EPPKA2-CBHE-JP
Activities
The Third International scientific and practical conference "MANAGEMENT AND ADMINISTRATION RESPONSES TO HYBRID THREATS"
Invites you to participate in the Third International scientific and practical conference "MANAGEMENT AND ADMINISTRATION RESPONSES TO HYBRID THREATS".
The conference will be held online on November 22, 2022.
The plenary meeting on the Google Meet platform is scheduled for 11.00 Kyiv time at the following link: https://meet.google.com/xop-xrxx-avp?authuser=0&hs=179&pli=1
Authors are invited to join the event and submit an abstract on the following topics:
1. Hybrid threats – modern challenges for Ukraine.
2. Management of organizations and administration.
3. Management of foreign economic activity.
4. Management of socio-cultural activities.
5. Public administration.
6. Entrepreneurship under conditions of dynamic changes of economic environment.
7. Globalizing aspects of the use of information and communication technologies.
The conference is a fully virtual event.
Working languages: Ukrainian, English.
Participation in the conference and publication of abstracts is free.
Each conference participant will receive an electronic certificate.
The conference is registered in UkrINTEI (certificate № 427 dated 03.10.2022).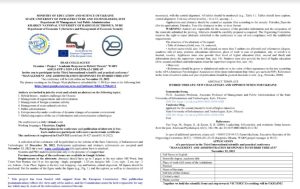 WARN-workshop in Lviv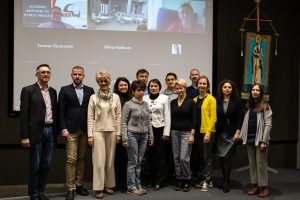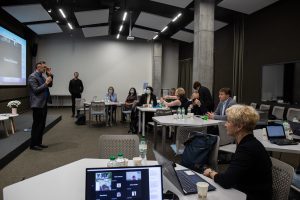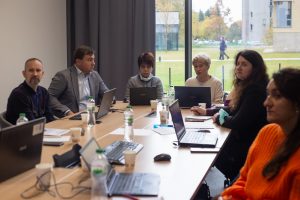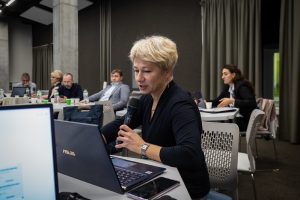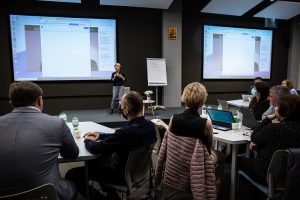 Project WARN tested the new format of the project work  for conducting the Workshop in Lviv on October 18-20, 2021. For three days the WARN project  team worked in "hybrid" interaction communicating alive at the locations of the Ukrainian Catholic University (UCU) and online via Zoom.
The NURE's interfaculty team was represented by the national project coordinator Associate Professor Svitlana Gryshko (EC Department), the team leader of developers of master's programme "Artificial Intelligence Systems" Mariia Golovianko  and executive project manager Liudmyla Titova, meantime Head of the EC Department Prof. Tetiana Polozova, and Professor of the AI ​​Department Nataliia Ryabova, joined the online format.
During the meeting, informative trainings were held for the developers of the WARN-project:
– training on adversarial learning within the fight against hybrid threats and cognitive hacking in particular;
– sharing knowledge obtained by representatives of the WARN-project in the Summer School of the University of Jyväskylä within the course "Changing Security and Hybrid Threats".
The "hybrid format" provided access to the new unique content not only the project team but also students of partner universities.
Team members also synchronized and coordinated the activities of the second work package (WP2) aiming at the adaptation of study programs to the new context of hybrid threats:
– updating the profiles of master's programs (in particular, the study programmes of NURE "Financial and Economic Security Management" and "Artificial Intelligence Systems");
– development of the common project course "Hybrid Threats and Comprehensive Security" and special courses of the study programmes;
– development of a new method of proactive learning under conditions of protection against hybrid threats;
– Updating the interactive Hybrid Threats Glossary.
Photo – M.Golovianko
National project coordinator Dr. Svitlana Gryshko tells about expected adapted study programmes (master's and LLL)