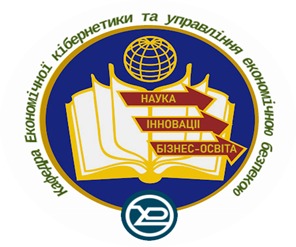 First International Scientific and Practical Conference «Modern Strategies for Economic Development: Science, Innovation and Business Education»
Ministry of Education and Science of Ukraine Kharkiv National University of Radio Electronics
Ukrainian Association for Management Development and Business Education Narkhoz University, Kazakhstan
Belarusian National Technical University, Belarus University of Latvia, Latvia
Higher School of Economics, Management and Public Administration, Slovakia Public organization "Nasz Dom", Poland
Budapest University of Technology and Economics, Hungary International Institute of Innovative Educational Technologies
International Scientific and Educational Trust Association Non-governmental organization "Silk Road", Poland University of Angers, France
University of National and World Economy, Bulgaria
Dear colleagues!
We invite scientists and leading experts in the field of economics and related fields to participate in the First International Scientific and Practical Conference «Modern Strategies for Economic Development: Science, Innovation and Business Education» dedicated to the 90th anniversary of KNURE, which will be held November 3, 2020 at the Department of Economic cybernetics and economic security management of Kharkiv National University of Radio Electronics in on-line distant form.
Scientists, teachers, post-graduate students, applicants for free economic science and research institutions, as well as practitioners who are actively engaged in research within the thematic areas of the conference are invited to participate in the international conference.
MAIN THEMATIC DIRECTIONS THE CONFERENCE
Modern economic theories and history of economic
The world economy: new challenges and innovative forms of international economic relations.
The single digital market of the European
Economics and management of the national
Development of modern entrepreneurship in the conditions of influence and counteraction to hybrid
Information technology in business: e-commerce and virtual
Economics of nature management and modern problems of environmental
Demography, labor economics, social economics and
Accounting, analysis and audit: national

characteristics

and global
Modern mathematical methods, models and information systems in
Finance, insurance and
Enterprise economics and corporate governance: business security and business process
Innovations in business
MEMBERS OF THE CONFERENCE ORGANIZING COMMITTEE
Valerii Semenets, Rector Kharkiv National University of Radio Electronics, Doctor of Technical Sciences, Professor, Ukraine.
Tetiana Polozova, Head of Department of Economic Cybernetics and Management of Economic Security, Kharkiv National University of Radio Electronics, D.Sc. in Economics, Professor, Ukraine.
Lyudmyla Gorokhova, Director of Ukrainian Association for Management Development and Business Education, Ukraine.
Maigul Nugmanova, Director of Gender Economics Center, Narxoz University, PhD in Economics, Republic of Kazakhstan.
Kseniya Yakushenko, Head of «Marketing» Department, Belarusian National Technical University, PhD in Economics, Associate Professor, Belarus.
Valeriia Prokopenko, Director International Institute of Innovative Educational Technologies, D.Sc. in Economics, Professor, Ukraine.
Nadiia Bielikova, The National Academy of Sciences of Ukraine, Research Center for Industrial Problems of Development, Ukraine.
Baiba Šavriņa, University of Latvia, Dr.Sc. in Economics, Professor, Latvia.
Ing. Michal Fabuš, Vice-rector for Foreign Affairs, PhD, School of Economics and Management in Public Administration in Bratislava, Slovakia.
Boguslaw Blicharski, Vice-president NGO "Nasz Dom", Poland.
Nadiya Dubrovina, Associate Professor, Csc., PhD, Department of Economics and Finance, School of Economics and Management in Public Administration in Bratislava, Slovakia.
Dr. habil László Vértesy, PhD jur, PhD oec, Associate Professor, Budapest University of Technology and Economics, Hungary
Georgii Ioffe, President Association «International Scientific and Educational Trust», Ukraine.
Jacek Nowak, PhD, Organization "Silk Road", Poland.
David Cayla, PhD, Associate Professor of Economics and Vice-Dean of the Faculty of Law, Economics and Management at Angers University, France.
Kostadin Kolarov, PhD, Associate Professor, Director Institute of Entrepreneurship University of National and World Economy, Bulgaria.
DATA ABOUT THE ORGANIZING COMMITTEE
Moderator: Irina Kolupaieva, Doctor of Economics Sciences, Professor Department of Economic Cybernetics and Economic Security Management
Secretary: Olena Murzabulatova, Candidate of Economic Sciences, Associate Professor Department of Economic Cybernetics and Economic Security Management
tel. slave.: +38 (057) 702-14-90, tel. mob.: +38 (066) 724-49-56
Email: sser.conf@gmail.com
To participate in the conference, you need no later than November 2, 2020:
send theses to the e-mail address of the Organizing Committee conf@gmail.com (Petrenko_theses);
fill in the application for participation in the conference (link) or send it electronically according to the provided form (Petrenko_application).
Conference languages: Ukrainian, English, Russian.
 The cost of participation in the conference for the citizens of Ukraine is 150 UAH. (for citizens of other countries – 15 $ at the rate of the NBU at the time of payment).
Details for payment will be sent to conference participants at the same time as the information of the organizing committee on the acceptance of the submitted materials. A copy of the payment receipt must be sent to the e-mail address of the organizing committee sser.conf@gmail.com no later than November 2, 2020 (Petrenko_receipt).
Following the conference, a collection of theses will be published on the website http://eces.nure.ua/ and sent by e-mail to the authors by November 17, 2020. Additionally, each author will be sent an electronic certificate of the conference participant.
Requirements for registration:
abstracts are provided by e-mail only. The volume of theses – 3-5 full pages of A4 format (297×210 mm), including figures, tables, bibliography;
the list of used literature should be placed at the end of the text and drawn up in accordance with the national standard of Ukraine DSTU 8302: 2015;
links to the text are placed in square brackets;
abstracts should be typed in a text editor Microsoft Word (in .doc format), Times New Roman typeface, 14 pt, Line spacing – 1,5; Text margins: top – 20 mm, bottom – 25 mm, left – 20 mm, right – 20 mm;
type formulas and symbols in the formula editor Math Type or Microsoft Equation as a separate
Submitted materials are published in the author's edition. Materials that do not meet the established requirements, are not considered and are not published!
APPLICATION FORM
(to be filled in for each author separately)
Petrenko P.P.,
Ph.D., Associate Professor of Economic Cybernetics
and economic security management, Kharkiv National University of Radio Electronics
FINANCIAL IMBALANCE IN THE MODERN WORLD
              With the changing economic realities of today, there is an urgent need [… text of the report…]
References:
      Lutinsky S. Money, finance and credit: a textbook. Kyiv: Nauka, 2007. 124 p.
      Maslovskaya C., Savchuk V.A. Evaluation of the effectiveness and efficiency of production of organic agri-food products. Agrosvit. 2016. № 6. pp. 23-28.
      Skydan V., Sudak G.V. Development of agricultural entrepreneurship on a cooperative basis. Cooperative readings: 2013: materials All-Ukrainian. scientific-practical conf., April 4-6. 2013. Zhytomyr: ZhNAEU, 2013. pp. 87-91.