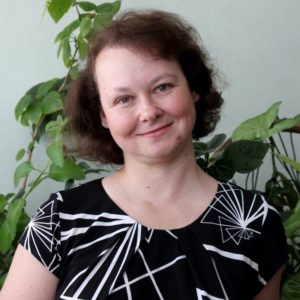 Associate professor of Economic Сybernetics and Management of Economic Security Department, Candidate of Economic Sciences, PhD
Education and Career
1997 – graduated from the Kharkiv National Economic University with a degree in Information Systems in Management.
1997-2000 – Postgraduate student of the Kharkov National University of Radio Electronics, Department of Economics and Management (renamed the Department of Economic Cybernetics). The dissertation on specialty 08.00.04 – "Economics and management of enterprises (by types of economic activity)" is defended on the topic "Evaluation of the effectiveness of innovation activity of machine-building enterprises".
2000 – assistant of the department of EC.
2011 – Senior Lecturer of the Department of EC.
Since 2015 – Associate Professor of the EC Department.
---
Educational activity
Teaches courses: "Economic cybernetics", "Decision support systems", "Riskology", "Management of Informatization Projects", "E-commerce" (all courses on English at Centre for Education in English), "Innovative Development of an Enterprise", "Information management"
---
Researcher activity
Sphere of scientific interests: innovative activity of enterprises, decision-making methods in the economy, risk assessment, automation of decision support in the economy.
Was involved in research projects (by public and private R & D financing)"Organizational and Economic Support for Managing the Efficiency and Competitiveness of Business Entities" (DR № 0108U001966), as well as "Theoretical and Practical Approaches to Modeling a Modern Enterprise Management System" (DR № 0103U001565).
---
International activity / participation in international projects
During January 2018 was trained under the program "New and innovative teaching methods" on the basis of Krakow University of Economics (Krakow, Poland).
---
Publications and patents
Has about 30 publications including 3 monographs.